Telescopic lifting tower specially certified to lift loads of up to 250 kg (617.29 lb) to a maximum height of 5.20 metres (17′ 0.72″).
MAST SECTIONS
This wind-up stand consists of four telescopic sections made in reinforced steel and finished in a textured, black, anti-scratch, powder coating (Epoxy). This finish makes the tower suitable for outdoor use, guaranteeing maximum corrosion resistance.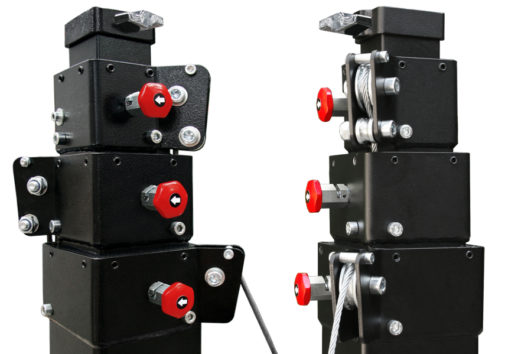 Los tramos están equipados con:
a.-Casquillo sobredimensionado soldado en su terminal para un mayor refuerzo del mismo.
b.-Sistema especial de ajuste para evitar holguras entre los tramos (en sus cuatro lados).
c.-Doble polea de reenvío.

d.-Pletinas protectoras para cubrir las poleas; evitando daños durante la manipulación y transporte de la torre e impidiendo que el cable se salga de las mismas.
e.-El último tramo está provisto de un casquillo de refuerzo con pomo metálico de diseño ergonómico.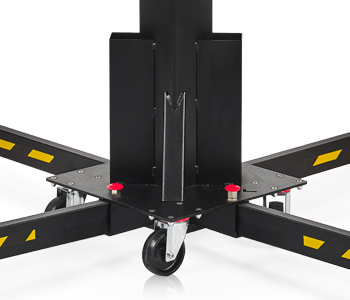 Base
The compact base of 42 x 42 cm (1'4.53″ x 1′ 4.53″), is specially designed to allow access to reduced spaces with the tower.
It is equipped with four detachable stabiliser legs, provided with leveller screw jacks that have reinforced nylon spin handles (ergonomic design) with a double-start thread (quicker adjustment) which facilitates the levelling task and chrome foot plates with non-slip injection moulded rubber pads. These foot plates ensure a perfect adjustment of the tower to the floor surface.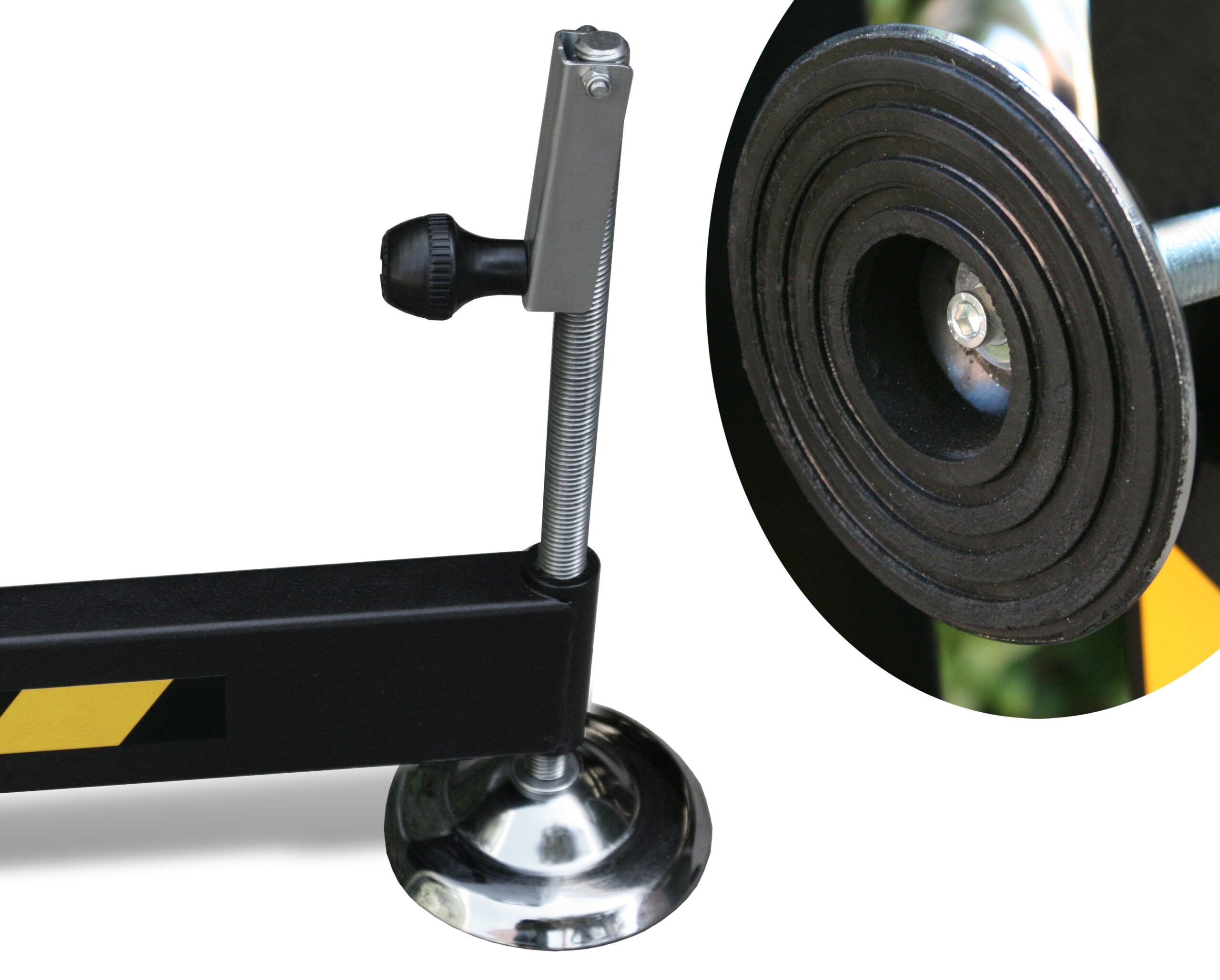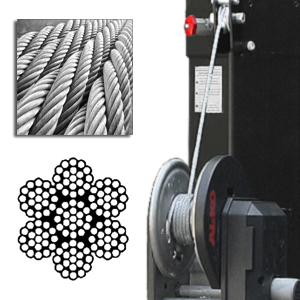 La elevación de la carga se realiza mediante un cabrestante manual autofrenable Ref. AL-KO OPTIMA 901 (900 kg).
Una vez se alcanza la altura deseada, al dejar de accionar la palanca del cabrestante, su mecanismo de freno empieza a actuar, evitando el retroceso y paralizando la carga.
Los tramos se extienden mediante juegos de poleas con rodamientos y cable de acero galvanizado (Composición: 7×19+0) especialmente diseñado para la elevación de cargas (DIN 3060).
La torre está provista de nivel de burbuja para facilitar su ajuste vertical
Nota: Los tramos telescópicos se fijan a la altura deseada mediante seguros de bloqueo (imprescindibles durante su utilización).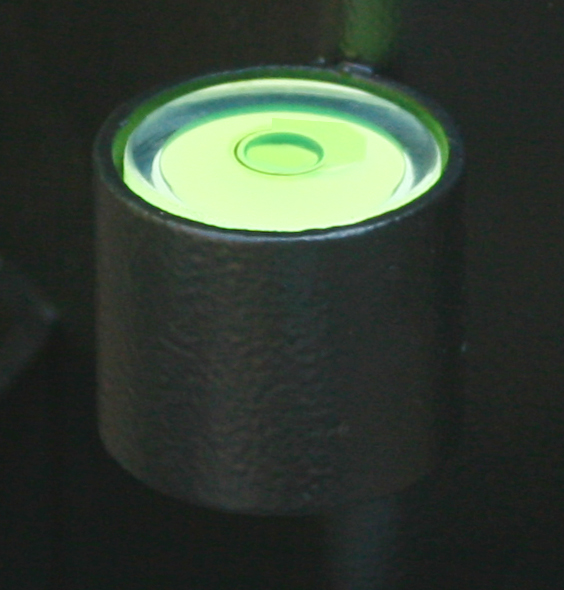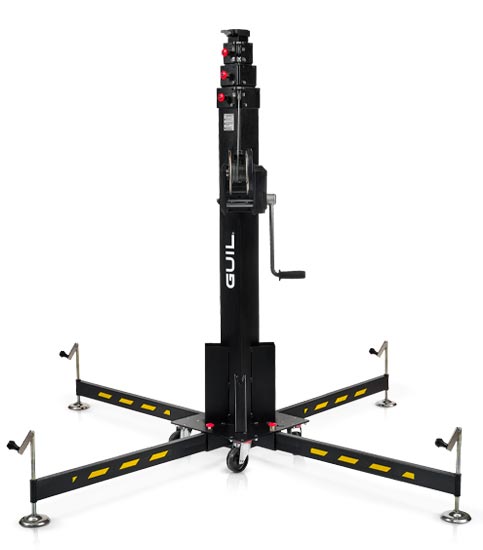 √ Timesaving > 100% Productivity.
√ Maximum stability, safety and durability.
√ Compact design – Easy manoeuvrability and loading in vehicles.
√ Fast and easy set-up with no tools required. There are no loose parts.
√ Brake winch that blocks the load in place when handle is released.
√ With its reduced size and weight it is easily used by one technician.
√ For industrial, commercial or domestic installations. For both indoor and outdoor use.
√ Made in Spain – Immediate availability of spare or replacement parts.
√ Manufactured with the most advanced technology, going through rigorous quality controls and complying with German and European CE standards.
ELC-780 has two safety systems which guarantee maximum reliability during the lifting and lowering procedure.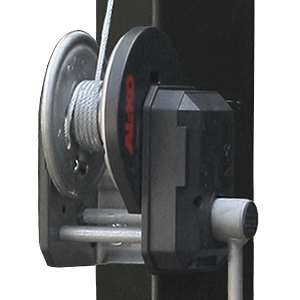 1.- Automatic brake winch from the Austrian manufacturer AL-KO Ref. AL-KO OPTIMA 901
Its auto-block system ensures the load remains at the required height; once the required height is achieved, the braking mechanism blocks the load when the handle is released.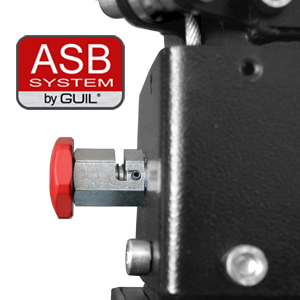 2.- ASB System (Automatic Safety Blocking System).
Zip/Trigger safety system with safety bolts. In the extreme case of cable breakage, the safety bolt would immediately block the mast, stopping the load from falling.
The ELC-780 tower is manufactured with the most advanced welding equipment which guarantees the highest level of safety and strength, complying with the lightweight, sturdiness and manoeuvrability requirements needed to lift heavy loads.
ELC-780 towers comply with the safety requirements according to the following Standards and Regulations:
DGUV Regulation 17 & 18
DGUV Rule 115-002
DIN 56950-1
2006/42/CE
VERY IMPORTANT: THE LIFT IS NOT TO BE USED AS A HOIST FOR LIFTING PEOPLE.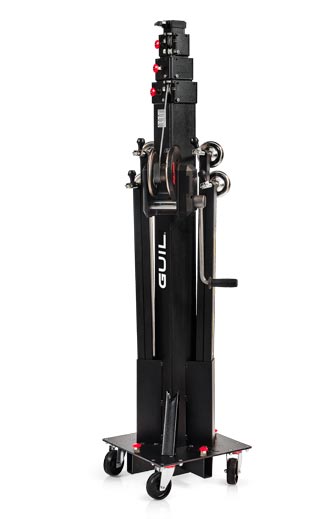 La torre está provista de cuatro ruedas giratorias de gran resistencia para facilitar su manejo y transporte. Las ruedas están fijadas a la base mediante chapa de acero, con cuatro tornillos por rueda; de esta manera se garantiza máxima fijación incluso en trabajos donde se requiera mover la torre por suelos irregulares.
Las torres ELC-780 están equipadas con un asa para facilitar su transporte.
El diseño compacto del elevador permite un cómodo y sencillo manejo hasta su lugar de trabajo. Un solo técnico puede transportar y manipular un elevador ELC-780, ahorrando tiempo y aumentando la productividad.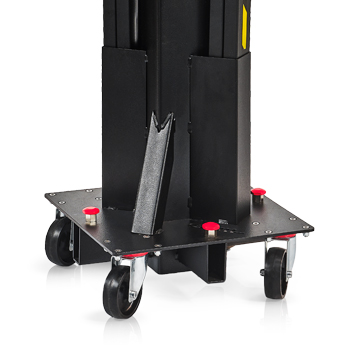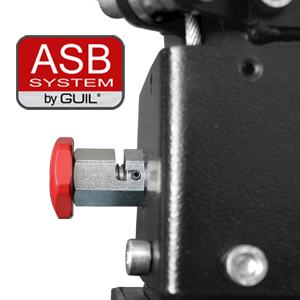 ASB System (Automatic Safety Blocking System)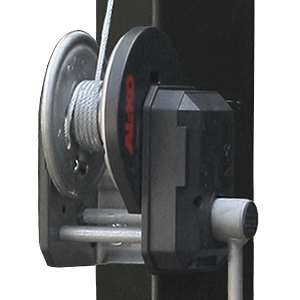 Auto-brake Winches (AL-KO) Comply with CE Machinery Directives.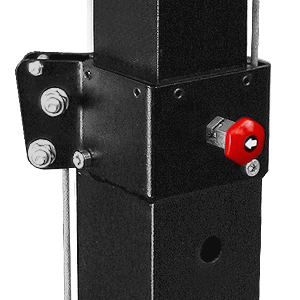 Zip/trigger safety system. Self-lubricating pulleys. Special Epoxy anti-scratch paint finish (for outdoor use).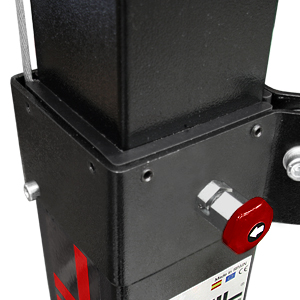 Internal system to prevent wobbling of the tower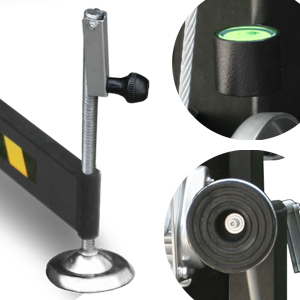 Rectangular legs with chromed foot plates with non-slip injection moulded rubber pads.
Spirit level (for correct vertical adjustment)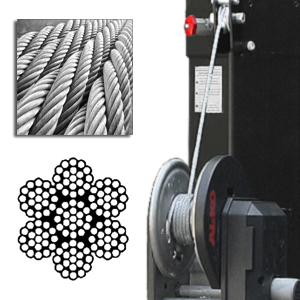 Special non-rotating steel wire rope, with steel core, 3 times the strength required.
Top section fitted with a reinforcing ferrule.