Telescopic lifting tower specially certified to lift loads of up to 250 kg (551.15 lb) to a maximum height of 5.20 metres (17′ 0.72″).
Mast Sections
This wind-up stand consists of four telescopic sections made in reinforced steel and finished in a textured, black, anti-scratch, powder coating (Epoxy). This finish makes the tower suitable for outdoor use, guaranteeing maximum corrosion resistance.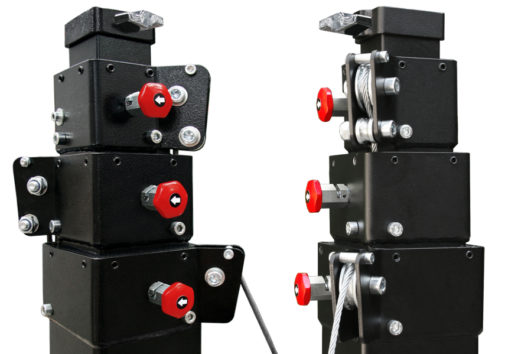 The masts are equipped with:
a) Oversized welded reinforced ending which strengthens the mast.
b) Internal cushioning system to prevent wobbling of the mast sections when extended (on all four sides).
c) Double resend pulley

d) Pulley protectors which reduce the chance of damage to the pulleys during handling and transportation at the same time preventing the cable from coming out of the pulleys.
e) The top mast comes with a reinforcing ferrule with an ergonomic metallic knob.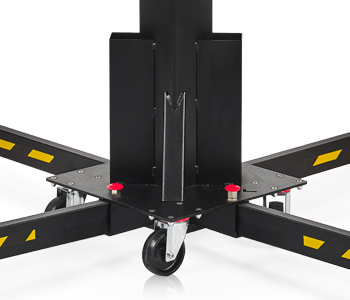 Base
The compact base of 42 x 42 cm (1'4.53″ x 1′ 4.53″), is specially designed to allow access to reduced spaces with the tower.
It is equipped with four detachable stabiliser legs, provided with leveller screw jacks that have reinforced nylon spin handles (ergonomic design) with a double-start thread (quicker adjustment) which facilitates the levelling task and chrome foot plates with non-slip injection moulded rubber pads. These foot plates ensure a perfect adjustment of the tower to the floor surface.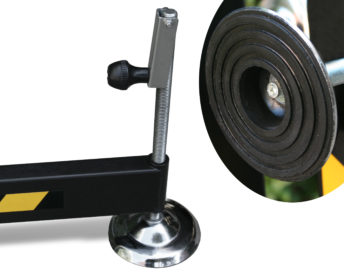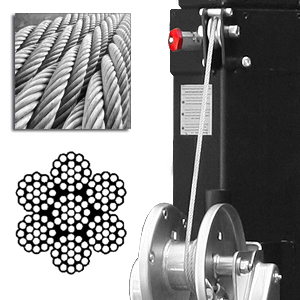 For a quick, safe and effortless lifting process, ELC-770 telescopic towers are equipped with an Ref. AL-KO 900 hand winch with automatic braking system, which stops and holds the load at the desired height:
once you have reached the desired height, by letting go of the winch handle the braking system automatically stops and holds the load in place.
The mast sections are extended by means of a set of pulleys with bearings and a galvanised steel wire rope with steel core (Composition: 7×19+0), specially manufactured for lifting heavy loads (DIN 3060).
It is provided with a spirit level, for a proper vertical adjustment of the telescopic masts and levelling of the tower.
Note: The masts are blocked at the desired height using the safety bolts (essential during the use of the tower)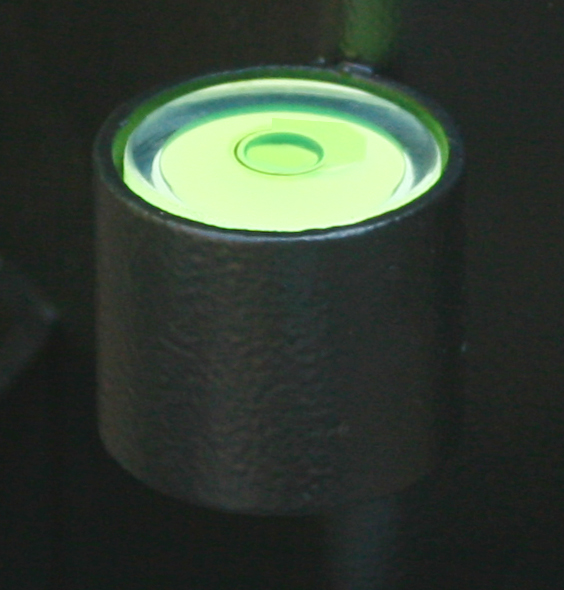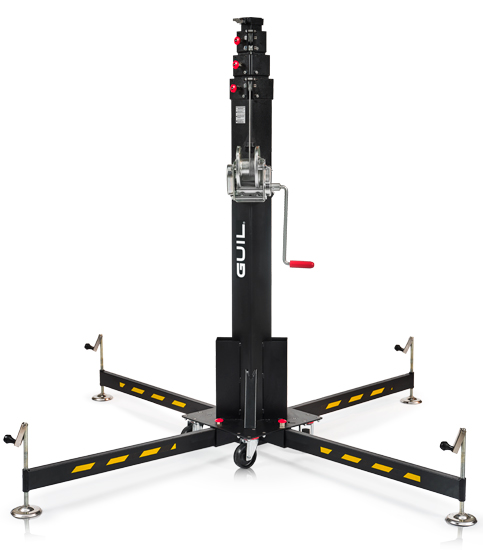 √ Timesaving > 100% Productivity.
√ Maximum stability, safety and durability.
√ Compact design – Easy manoeuvrability and loading in vehicles.
√ Fast and easy set-up with no tools required. There are no loose parts.
√ Brake winch that blocks the load in place when handle is released.
√ With its reduced size and weight it is easily used by one technician.
√ For industrial, commercial or domestic installations. For both indoor and outdoor use.
√ Made in Spain – Immediate availability of spare or replacement parts.
√ Manufactured with the most advanced technology, going through rigorous quality controls and complying with German and European CE standards.
ELC-770 has two safety systems which guarantee maximum reliability during the lifting and lowering procedure.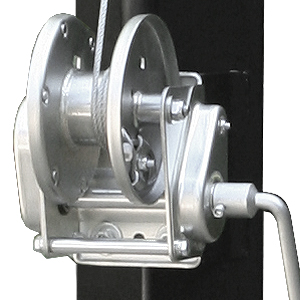 1.- Automatic brake winch from the Austrian manufacturer AL-KO Ref. AL-KO 900
Its auto-block system ensures the load remains at the required height; once the required height is achieved, the braking mechanism blocks the load when the handle is released.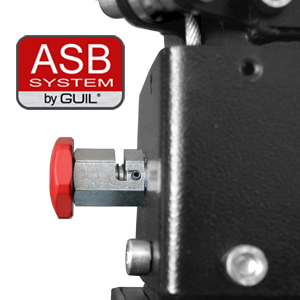 2.- ASB System (Automatic Safety Blocking System).
Zip/Trigger safety system with safety bolts. In the extreme case of cable breakage, the safety bolt would immediately block the mast, stopping the load from falling.
The ELC-770 tower is manufactured with the most advanced welding equipment which guarantees the highest level of safety and strength, complying with the lightweight, sturdiness and manoeuvrability requirements needed to lift heavy loads.
ELC-770 towers comply with the safety requirements according to the following Standards and Regulations:
– DGUV Regulation 17 & 18
– DGUV Rule 115-002
– DIN 56950-1
– 2006/42/CE

VERY IMPORTANT: THE LIFT IS NOT TO BE USED AS A HOIST FOR LIFTING PEOPLE.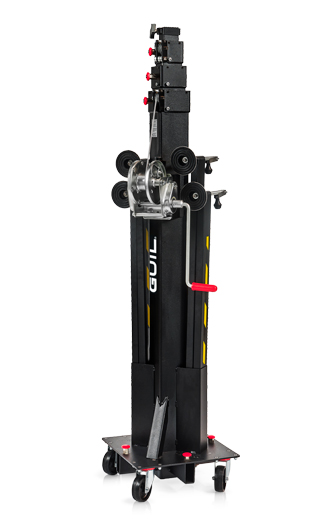 Its base is provided with four heavy-duty swivel castors to make handling and transport an easy task. The wheels are secured to the base using a metal plate with 4 fixing points; to guarantee a secure fix even when moving the tower on uneven ground.
ELC-770 towers come with a handle to help with handling.
It has a compact design for easy handling, transportation and storage and is perfectly manageable by one technician, saving on time and increasing productivity.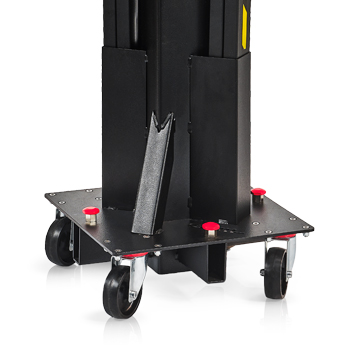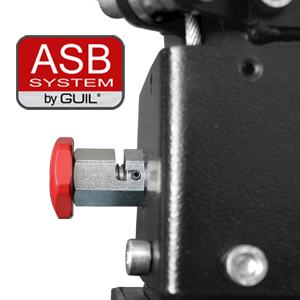 ASB System (Automatic Safety Blocking System)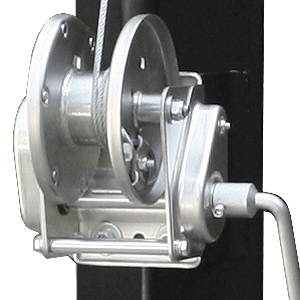 Auto-brake Winches (AL-KO) Comply with CE Machinery Directives.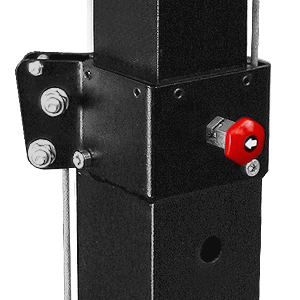 Zip/trigger safety system. Self-lubricating pulleys. Special Epoxy anti-scratch paint finish (for outdoor use).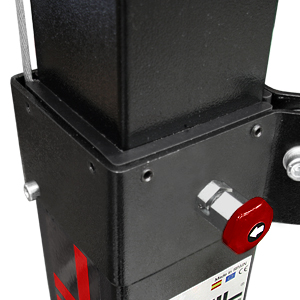 Internal system to prevent wobbling of the tower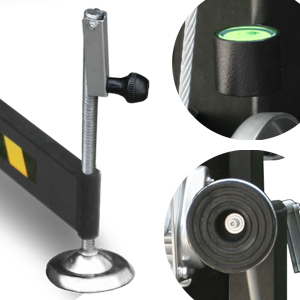 Rectangular legs with chromed foot plates with non-slip injection moulded rubber pads.
Spirit level (for correct vertical adjustment)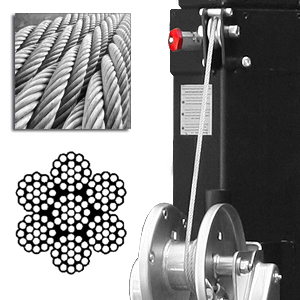 Special non-rotating steel wire rope, with steel core, 3 times the strength required.
Top section fitted with a reinforcing ferrule.