A BRAND OF GUARANTEE
More than 35 years dedicated to the metal industry, specialised in the production and development of products in the field of lifting loads, offering the user engineering products of the highest quality.

TECHNOLOGY
The production of our material lifts is done using the most advanced technology. The assembly of the parts and the inspection protocols are carried out based on a meticulous and quality-focused approach.
GOALS
Our dedication to efficiency and safety is the cornerstone at GUIL, with the aim of offering a wide range of solutions for the lifting and holding of loads.
COMPARATIVE TABLE 
FIND THE LIFTING TOWER THAT BEST SUITS YOUR REQUIREMENTS
What does GUIL manufacture?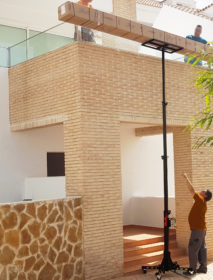 Top loading wind-up stands ELC
Compact and light-weight telescopic stands designed to lift loads of up to 250 kg to a maximum height of 5.20 metres.
These towers are the perfect complement for jobs that are carried out in small spaces (both indoors and outdoors): air conditioning installations, awning assemblies, storage, maintenance work, etc.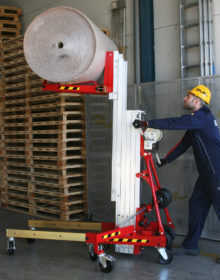 Front loading lifters (load from the floor) TORO
Industrial lifting towers developed to lift loads of up to 400 kg to a maximum height of 8 metres. They offer installers a safe and practical solution for the lifting of loads for multiple fields: installation of windscreens, assembly of ventilation, heating and construction equipment, maintenance of spaces, assembly of trade fair stands, metalwork, etc.
MANUFACTURING SINCE 1983
GUIL, Engineering for Lifting Technology
We are a Spanish factory with more than 35 years in the metal industry, specialising in the design and manufacturing of Manual Lifters regarded as being highly innovative, efficient and safe. Thanks to our constant investment in R+D+i we have become a leading company in the industry, being present in all 5 continents.