Material lifter ELC-720/I
ELC-720/I – Material lift to raise loads of up to 125 kg (276 lb) to 3.50 metres (11 ft 6 in).  Stowed height of only 1.35 m (4 ft 5 in).
Its user friendly and compact design, with folding and adjustable base (umbrella style), makes the ELC-720/I Lift an ideal complement for any kind of lifting task that has to be done in a limited working area both outdoors and indoors.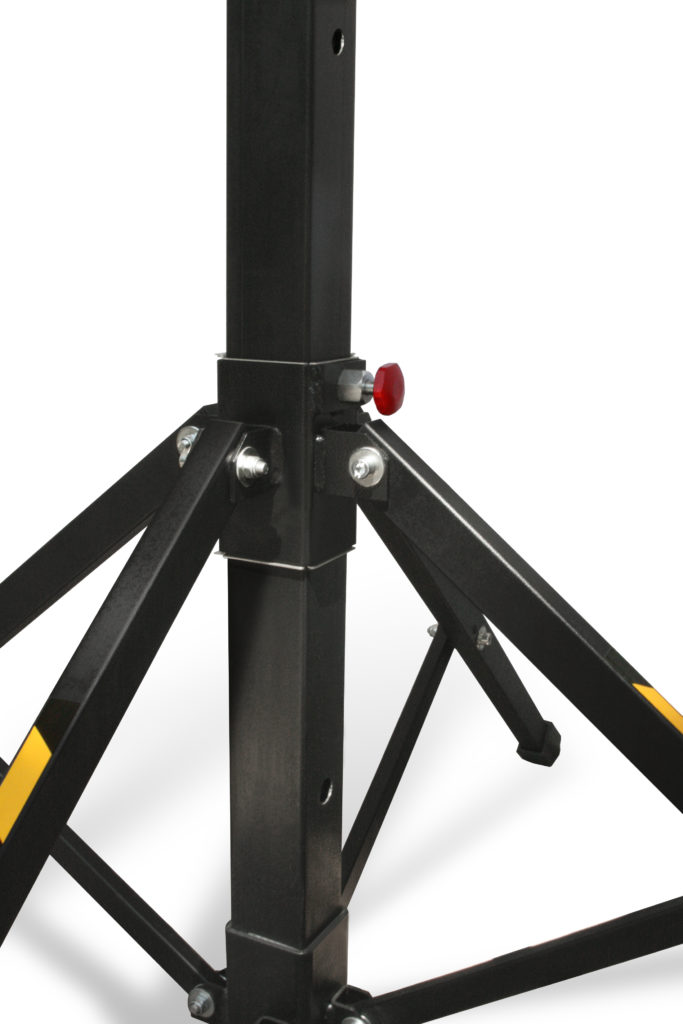 BASE
Compact, folding base manufactured in reinforced steel and finished in a double coat of textured, anti-scratch black powder paint (Epoxy) especially for outdoor use.
Its special umbrella-style folding design allows technicians to adjust the base footprint to the work space available for use in small places (kitchens, bathrooms, terraces, etc).
An optional set of double wheels with brakes (Ref. R-720) is available to make the ELC-720/I more mobile, and your job easier.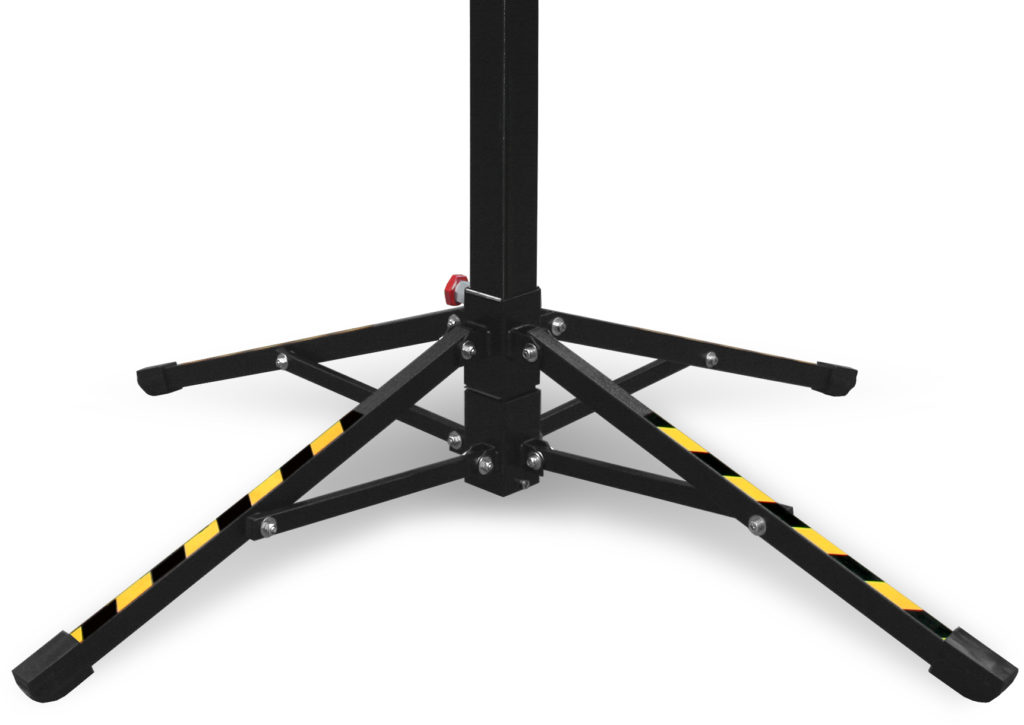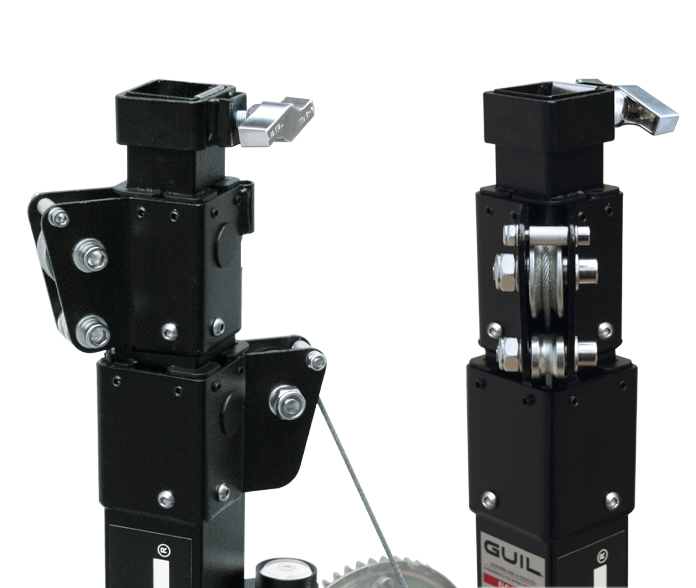 MAST SECTIONS
Lifting Tower consisting of three telescopic sections made of steel finished in a textured, black powder coating with special anti-scratch properties. This feature, together with the fact that all its components are made with rustproof material, makes the lift suitable for use outdoors, guaranteeing maximum corrosion resistance. Note: For maximum stability, the top section is fitted with a reinforced collar.
These sturdy sections are raised by means of an autobrake hand winch with Ø 4 mm (0.16″) non-rotating steel wire cable of 7×19+0 composition with an independent galvanized steel core, specially manufactured for lifting heavy loads (DIN 3060) and guided by self-lubricating pulleys with bearings.
All pulleys and the cable roller-guides have protective metal plates, which have two main functions:
– To prevent damage during the lift handling.
– To stop the wire from coming off the pulleys.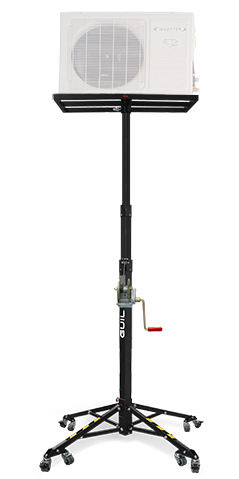 √   Timesaving > Optimum Productivity.
√   Maximum stability, safety and durability.
√   Compact design – Easy manoeuvrability and loading in vehicles.
√   Optional set of wheels with brakes available for greater mobility
√   Fast and easy set-up with no tools required. There are no loose parts.
√   Brake winch that blocks the load in place when handle is released.
√   With its reduced size and weight it is easily used by one technician.
√   Compact construction that allows it to be used in tight spaces.
√   For industrial, commercial or domestic installations. For both indoor and outdoor use.
√   Made in Spain – Immediate availability of spare or replacement parts.
√   Manufactured with the most advanced technology, undergoing rigorous quality controls and complying with European CE standards.
GUIL offer a wide range of adaptors for our ELC lifters, with several sizes and kinds of load-tray, as well as roll-lifting adaptors and floodlight holders – which can also be used to hold security cameras – and even an attachment to set up marquees.
For installers of air-conditioning, we have developed a load tray with a reduced size to facilitate installations, in particular the outdoor units of air conditioners. Thanks to the size of this tray the unit can be raised to the level of the wall brackets and then moved between them, so that you can lower the tower leaving the unit resting on the brackets – all without the effort, risk and inconvenience of transferring the unit from the tray to the brackets while standing on a ladder.
The lifter complies with the sturdiness and manoeuvrability requirements needed to lift heavy loads, guaranteeing maximum safety and resistance, fulfilling the highest quality standards and safety norms  2006/42/CE, DGUV Regulation 1, DGUV Regulation 17, DGUV Regulation 18, DGUV Rule 115-002.
IMPORTANT: GUIL's lifters are not to be used as a hoist for lifting, supporting or transporting people.
The ELC-720/I has a compact and lightweight design (1.35 m stowed height, and only 24 kg) for easy handling, transportation and storage, and can fit in small vehicles for maximum manoeuvrability. This means that one technician can transport and use the ELC-720/I lift with ease, saving time and increasing productivity.

ELC-720/I lifting towers are to be used with adaptors that have an insertion tube of Ø 35 mm.
* Loading tray / shelf ref. BC-02/M: Tray adaptor to lift all kinds of loads; especially designed to be used with the ELC-720/I and ELC-730/R towers (sold separately). It has non-slip pads on the top surface to stop the load from moving or being damaged during the lifting process.
As it is made from steel and has a black, anti-scratch paint finish it can be used outdoors and offers maximum durability and resistance against rust.
* Adaptors to lift cylindrical objects, or to hold floodlights or security cameras
* R-720: Four sets of two double wheels to facilitate the use and transportation of the ELC-720/I tower. Each wheel adaptor has 2 double swivel castors, one of which has a brake.
Material lift to raise loads of up to 125 kg (275.58 lb) to 3.50 metres (11′ 5.80″).