Compact telescopic lift for spotlights, specially designed for easy transportation when folded. It has been certified to lift loads of up to 85 kg to a maximum height of 3.30 metres and has a Ø 35 mm top spigot.
Its user friendly and compact design, with a folding and adjustable base, make the ELC-700 Lift ideal for any kind of temporary event, both outdoors and indoors.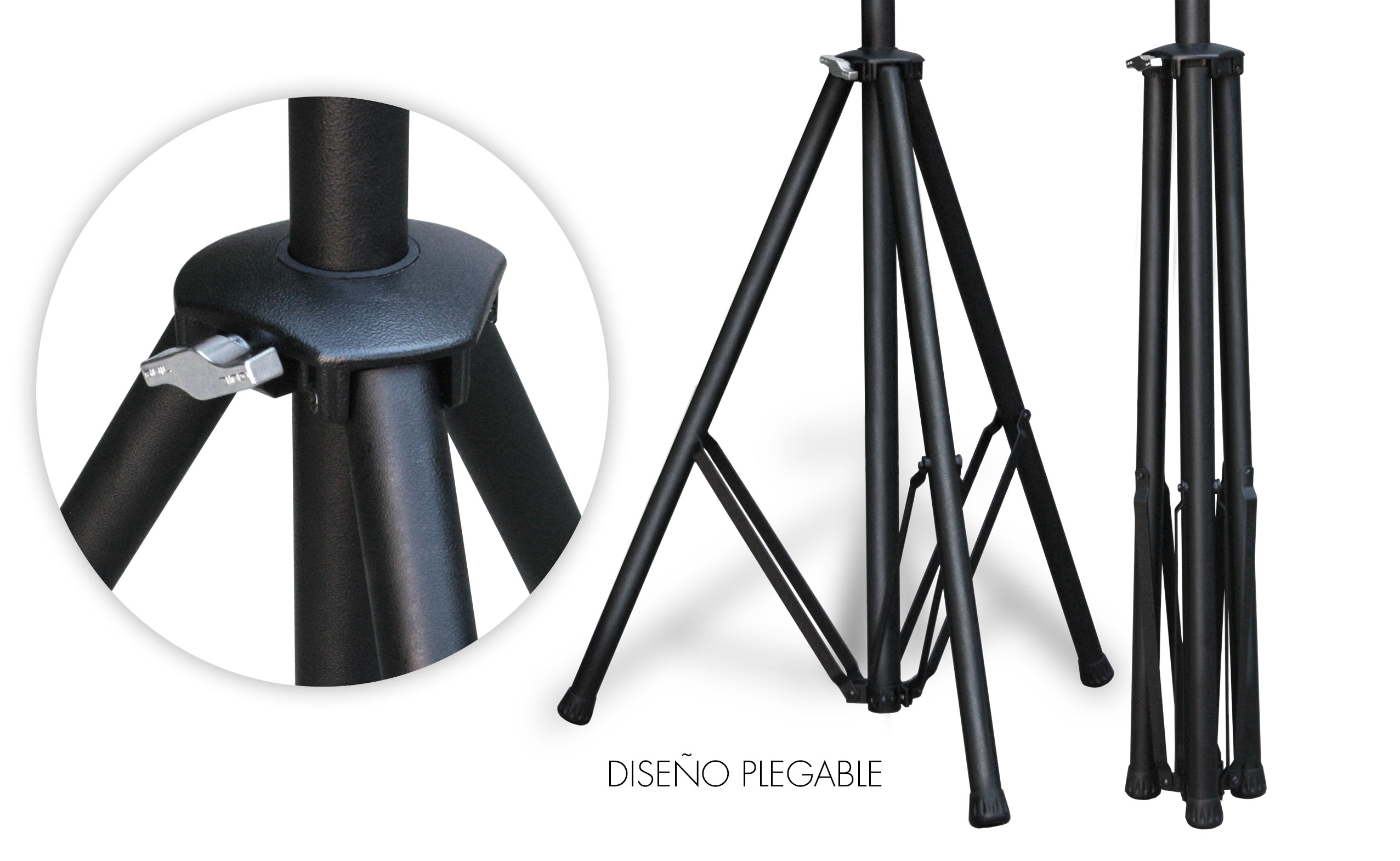 BASE
Compact base made in steel with three legs (umbrella style) and fitted with rubber stoppers, to prevent sliding and guarantee a perfect adjustment to the floor surface.
Its special design (there are no loose parts) offers technicians a fast and easy lift set-up (no tools required).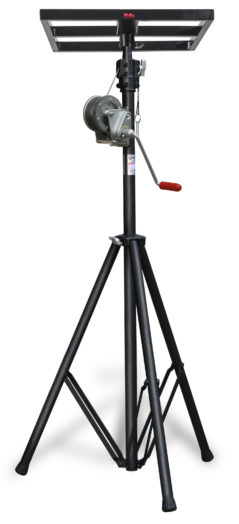 √ Timesaving > 100% Productivity.
√ Maximum stability, safety and durability.
√ Compact design – Easy manoeuvrability and loading in vehicles.
√ Fast and easy set-up with no tools required. There are no loose parts.
√ Brake winch that blocks the load in place when handle is released.
√ With its reduced size and weight it is easily used by one technician.
√ For industrial, commercial or domestic installations. For both indoor and outdoor use.
√ Made in Spain – Immediate availability of spare or replacement parts.
√ Manufactured with the most advanced technology, going through rigorous quality controls and complying with German and European CE standards.
ELC-700 is equipped with two safety systems which guarantee maximum reliability and strength: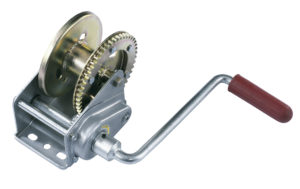 Hand winch : It is equipped with a hand winch with automatic braking system, which stops the load at the desired height when handle is released.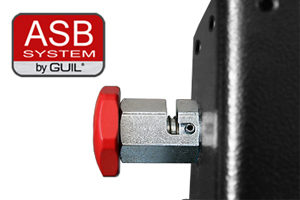 ELC-700 Lift are made using the most advanced welding processes which guarantee the lightweight, sturdiness and manoeuvrability requirements needed to lift loads guaranteeing maximum safety and durability.
ELC-700 tower complies with the highest quality standards and safety norms: DGUV Regulation 17 & 18, DGUV Rule 115-002, DIN 56950-1 and 2006/42/CE
IMPORTANT: It is not to be used as a hoist for lifting, supporting or transporting people.
 It has a compact and lightweight design for easy handling, transportation and storage and can fit in small vehicles for maximum manoeuvrability.
This means that one technician can transport and use the ELC-700 lift with ease, saving time and increasing productivity.
 Folded dimensions:
* 260 x 320 x 1700 mm (with winch handle)
* 260 x 160 x 1700 mm (without winch handle)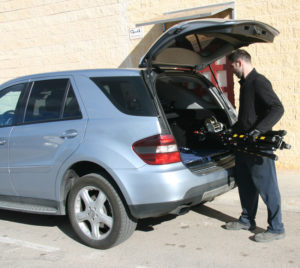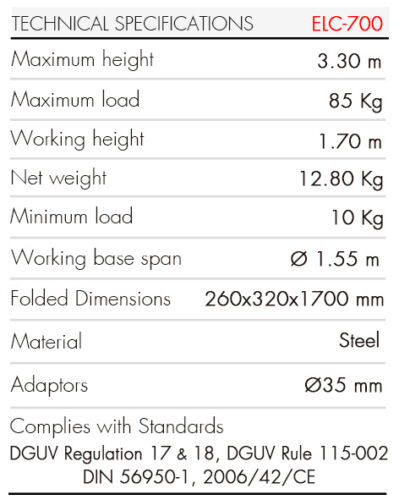 Material lift to raise loads of up to 85 kg (187 lb) to 3.30 metres (10.10 ft).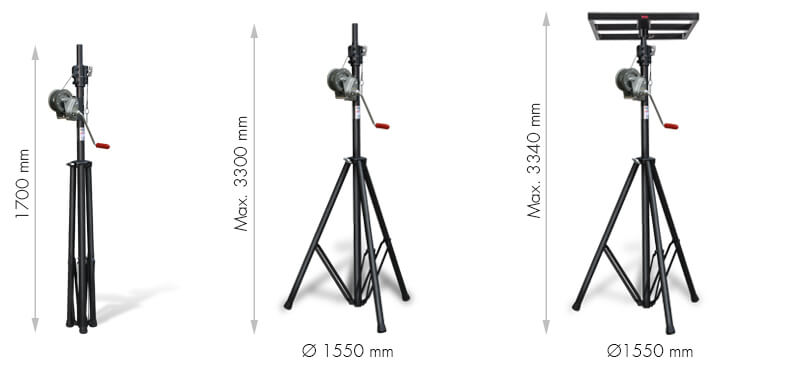 Maximum Height

:

11 ft 6 in, 3.50 m

Folded Height

:

1.35 m, 4 ft 5 in

Maximum Load

:

125 kg, 276 Lb

Net Weight

:

23.5 Kg, 51.80 Lb