Manual lifter TORO E-501/C
GUIL's TORO E-501/C manual pallet lifter, manufactured in aluminium and steel, is designed to lift loads of up to 200 kg to a maximum height of 3.45 metres – much higher than the vast majority of stackers.  The TORO E-501/C can be used in reduced spaces, and, for its lifting height, it's extremely compact and easy to transport or store when stowed – only 160 cm high!
The TORO E-501/C pallet handler enlarges GUIL's lifter catalogue with a model able to lift and position Euro-pallets (120×80 cm) and many other standard sizes of pallet, and with features designed specifically for this function.
The TORO E-501/C lifter, manufactured to an extremely sturdy but light design, is certified to lift its full maximum load capacity of 200 kg to its lifting ceiling of 3.45 metres with utmost safety and durability.
It comes fully equipped as standard with all the necessary components and accessories for its use: forks, manual winch, wheels for vertical and horizontal manoeuvring, 3 aluminium mast profiles raised with a pulley system, etc.
Thanks to its special design for easy loading into vehicles, the simple positioning of the load to be lifted, and its quick and easy set-up, this lifter is considered one of the most functional towers for pallets on the market.
– Robust yet lightweight and compact manual stacker, designed for jobs in reduced spaces that require a greater lifting height than in models of similar size.
– For quick, safe and easy raising, the lifter comes with an automatic brake winch which stops and holds the load at the desired height. Removable handle for safety, and for ease of transport.
– The TORO E-501/C pallet handler can also be used as a material lifter, which allows you to invert the front carriage, thereby gaining 50cm of lifting height, for a maximum total height of 3.95 m. Unbeatable versatility.
– Adjustable-width legs (61 or 94cm width) allow different-sized pallets to be handled.
– GUIL towers prevent "fishing-rod" effect deformation and provide extra strength with greater overlap of mast stages.
– TORO stackers can be operated by one person. Timesaving = Increased productivity.
– Fast and easy set-up with no tools required. There are no loose parts.
– Compact and lightweight design for easy handling. Corridor and single-door accessible.
– TORO lifters can be converted from manual to electric lifting (and back again), by purchasing the "ELECTRIC-D" system for the winch (sold separately).
– A double-handed manual winch can be fitted at extra cost.
– The lifter is provided with neodymium magnetic locking pins (preventing loss).
– It can be used for industrial and residential installations, for both indoor and outdoor use.
FULLY EQUIPPED towers: they are supplied with all the components and accessories necessary for their immediate use. Comes with the following as standard:
– Removable and reversible load forks.
– Removable legs with wheels.
– 10 wheels for vertical and horizontal manoeuvring and loading onto vehicles.
TORO E-501/C pallet handlers are manufactured using the most advanced technology, with carefully selected raw materials and strict quality controls throughout the whole manufacturing process. This way we guarantee maximum safety and durability, complying at all times with the lightweight, sturdiness and manoeuvrability requirements needed to safely lift heavy loads.
TORO E-501/C lifters comply with the quality system requirements of European rules and regulations established in EU Norm 2006/42/CE.
TORO E-501/C material lifters are equipped with two safety systems to guarantee maximum reliability and resistance during the whole lifting and lowering process, and a unique unblocking system: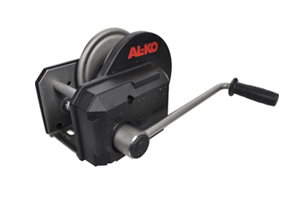 Brake Winch Ref.AL-KO 901
The automatic braking system stops and holds the load at the desired height: once you have reached the desired height, by letting go of the winch handle the braking system automatically stops and holds the load in place.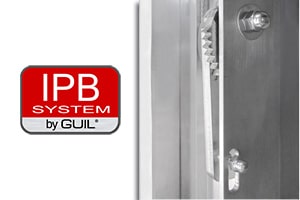 IPB System (Internal Pendulum Brake):
Consists of an internal pendulum system that is automatically activated on each mast section if they were to suddenly fall.  The mast can be easily unblocked by a trigger on each profile (MSU System).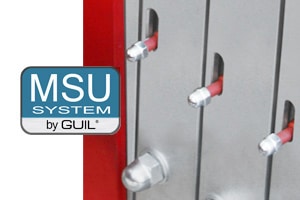 MSU System (Mast Section Unblocking): This unique system, designed and manufactured by GUIL, following conversations and analysis with our dealers, unblocks the internal pendulum brake system without having to dismantle the tower.
How it works: in the unlikely event of the cable breaking, the tower would be blocked by the IPB system.  Each mast section has an external safety bolt that allows the user to unblock the individual profiles when the pendulum brake is activated, without having to take the whole machine apart. Imagine the situation without this system, if the tower has this problem and can't be put in a van to return it to the workshop for repair!
A double spirit level installed on the top of the winch allows the user to see quickly if the lifter is level while working.
VERY IMPORTANT:  The lift is not to be used as a hoist for lifting, supporting or transporting people.
MAST SECTIONS
The lifter has 3 mast stages made of high-strength extruded aluminium, which are extended by means of pulleys with auto-lubricating bearings and a galvanised steel cable for high strength and durability (specially manufactured for lifting heavy loads).  Every stage of the mast has four self-lubricating Nylatron guide-rollers with ball-bearings, which help to keep the operation of the tower smooth.
The sections have a 45 cm overlap, more than the lifters of most other manufacturers, which prevents the "fishing-rod" effect and provides greater strength and stability to the tower.
The mast sections are secured to the base with a "U" shaped steel plate which is larger and thicker than most.
The tower base has a blocking hook to prevent profiles from moving during its horizontal transportation. This hook is adjustable in length, and is tightened to block the masts firmly in place.
WINCH
The TORO E-501/C is supplied as standard with a single-handled winch (Ref. AL-KO 901).  It is also available on request – as an optional extra – with a double-handled winch.  Similarly, this model may be equipped with the ELECTRIC-C adaptor, which uses an electric drill and reduction gear to raise and lower the lift electrically instead of manually – and which may be switched as necessary to raise loads with the hand or electric winch.  Please see the manual for the instructions on how to install or remove the ELECTRIC system.
LEGS
Like the forks, the reinforced legs are also stored in a vertical position for storage, and the lifter occupies very little floorspace when stowed (only 80 x 69 cm).  The detachable legs are available as spare parts if necessary, like any other component of GUIL's towers.
BRACES
Two steel mast braces that have two main functions:
To give greater structural strength.
To protect the aluminium mast sections.
HOLDER FOR MANUAL
A metal manual holder is included to keep the user manual with the stacker at all times.  All users of our lifters have to read the manual before using the machine.
The forks are made of steel and have a tapered tip in order to engage easily under a pallet. They have a useful load-bearing length of 109  cm (not including the tip), and are 9 cm wide  and 3 cm deep each.  The distance between them is 38 cm (total width of the forks is 56 cm), and they can be lowered between the legs of the lifter, to raise the pallet from the ground.  For storage, they are positioned vertically on the front carriage.
By reversing the front carriage of the lifter, the forks can be positioned 50 cm higher, allowing loads to be lifted almost 4 m high.  However, in this case, the load cannot be lifted from the floor, but needs to be placed on the forks for lifting.
The forks have two fundamental features:
– Special reversible design; to be able to set them at two different heights, gaining 50cm more height when fully extended, taking the maximum lifting height up to 3.95 m.
– The forks can be removed for more convenient transportation and storage of the tower, and are secured with safety locking bolts.
The width of the base of the TORO E-501/C is adjustable,: the legs can be positioned 94 cm or 61 cm apart, and they are held in place with safety locking bolts.   This gives users the possibility of using the lifter in different environments, with different loads, but always with guaranteed reliability.  The TORO E-501/C can be used to take loads along corridors or aisles and store them on shelves or similar surfaces up to 3.45 m high (or 3.95 m with reversed forks).
Compact base (80 x 69 cm) manufactured in sturdy steel and finished with a double layer of textured powder coating (Epoxy) for outdoor use.
The base comes with the following as standard:
– Four Ø150 mm wheels, two of them swivelling and with brakes.
– Four smaller wheels, two for vertical manoeuvring when the legs are stowed, and two for horizontal manoeuvring.
– Two large, heavy-duty wheels for horizontal manoeuvring and protection.
With a stowed height of only 160 cm, and with wheels on the base, the TORO E-501/C is compact for easy storage, and can be manoeuvred even when the legs are in stowed position, or transported easily in a van. In addition, it is equipped with wheels at the back of the lifter, which allow it to be transported horizontally if required. The TORO E-501/C Lifter comes with 10 wheels as standard and is designed to be transported both vertically and horizontally:
For horizontal and vertical manoeuvring when the legs are stowed, and quick and easy loading onto vehicles, the tower is provided with six wheels:
– 2 wheels (Ø150 mm) on the manoeuvring handles on the back of the tower, which support it during horizontal manoeuvring and protect it from possible bashes. This special system has three different positions – for horizontal transportation, vertical transportation and storage position – and is included as standard, at no extra cost.
– 2 wheels on the back of the base, which are used to help to tilt the tower back into the horizontal position.
– 2 wheels at the front of the base, to support the lifter during vertical manoeuvring.
For operation, the base is equipped with 4 heavy duty wheels (Ø150 mm), two of them swivelling:
– 2 wheels on the base, swivelling and with brakes.
– 2 wheels on the legs