Material Lifter ELC-725
Compact material lifter with a working height of only 1.32 m (4 ft 4 in).  Designed to raise loads of up to 125 kg (276 lb) to a maximum height of 4.00 metres (13 ft 1 in).  The model's special design allows it to be placed right next to the wall, making the installation of equipment much easier.   The ELC-725 model incorporates a new system which allows the lifter's mast to be lowered with no load (just with the weight of the load platform).
The ELC-725's compact base is fitted with 4 fold-down legs with wheels and levellers for a perfect adjustment on any kind of surface, and 4 extra wheels, two of them flat-free, allowing the lifter to be transported comfortably over uneven ground.  Equipped with a load platform as standard, the ELC-725 is the complete package for any modern installation or maintenance professional.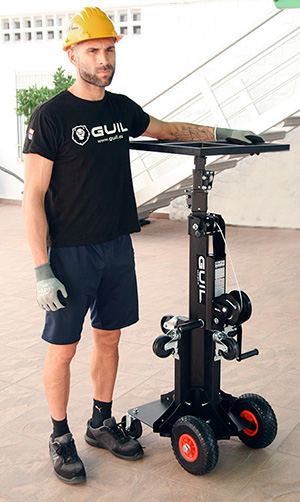 The ELC-725 is a lifter of compact design, with a stowed height of only 1.32 (4 ft 4 in), which can take a load up to 4.00 m (13 ft 1 in) height (including load tray).  These reduced dimensions offer professionals a perfect combination of ease of loading and lifting height.
Its compact wheeled base measures only 40 x 55 cm, and with four wheels – two 260 mm flat-free and two 125 mm heavy-duty – it is easy to transport upright, or wheelbarrow style if necessary, to the workplace.
The ELC-725 allows loads to be lifted higher than you might think with such a compact base, making it possible to undertake a wide variety of jobs.
Its exclusively-designed legs allow the load to be positioned right next to the walls.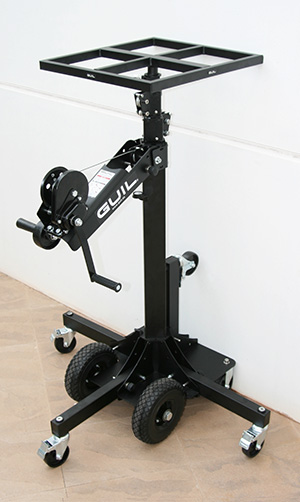 The legs of the ELC-725 are made of rectangular-section steel for greater strength.  As each pair of legs measures only 108 cm from one side to the other, the ELC-725 is ideal for use in workplaces where space is constricted, and can be set up in places like bathrooms and other tight spaces where larger bases will not fit.
The legs of the ELC-725 are not detachable, but are held in place on the base, and drop down individually to be fixed in place with magnetic locking pins (ref. RC-100), which are designed to stick to the steel parts of the lifter if they are dropped, preventing them from getting lost.  This special leg deployment system guarantees a quick, efficient set-up, without the need to tilt the tower over.
The ELC-725's legs are fitted with swivel wheels (Ø100 mm) with brakes to secure it in its work position, and levelling jacks which allow the lifter to be perfectly adjusted on any surface, even on irregular ground.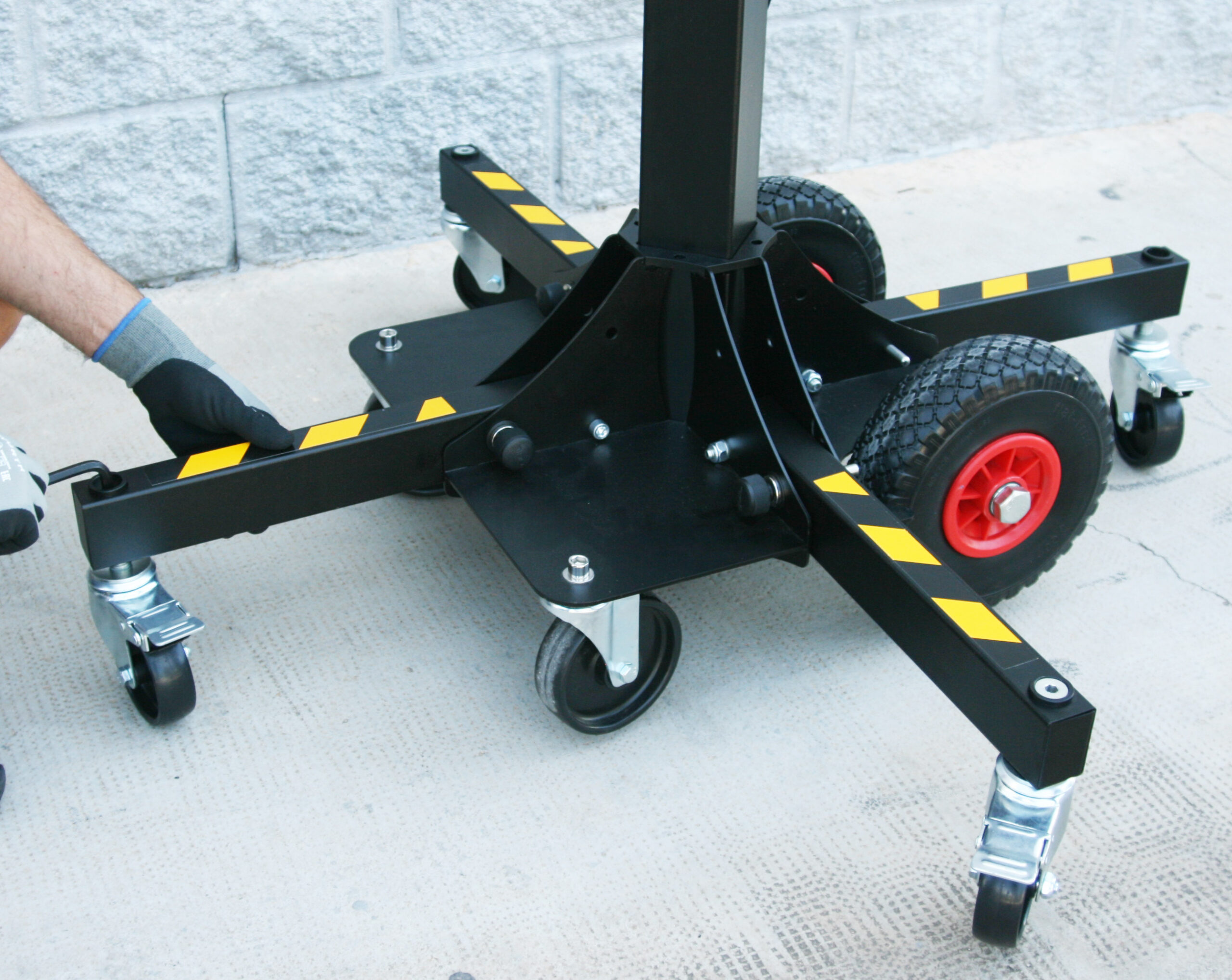 Levelling your lifter
The ELC-725 can be levelled with leveller screw jacks incorporated in the legs of the lifter, and operated with an Allen key provided with the device.  The jacks can be individually adjusted to an irregular floor or other terrain, making the ELC-725 perfectly level with the help of the spirit level installed on the lifter.  There are holes to keep the Allen key on the base, so that it doesn't get lost.
 THE MODEL´S SPECIAL DESIGN ALLOWS IT TO BE PLACED RIGHT NEXT TO THE WALL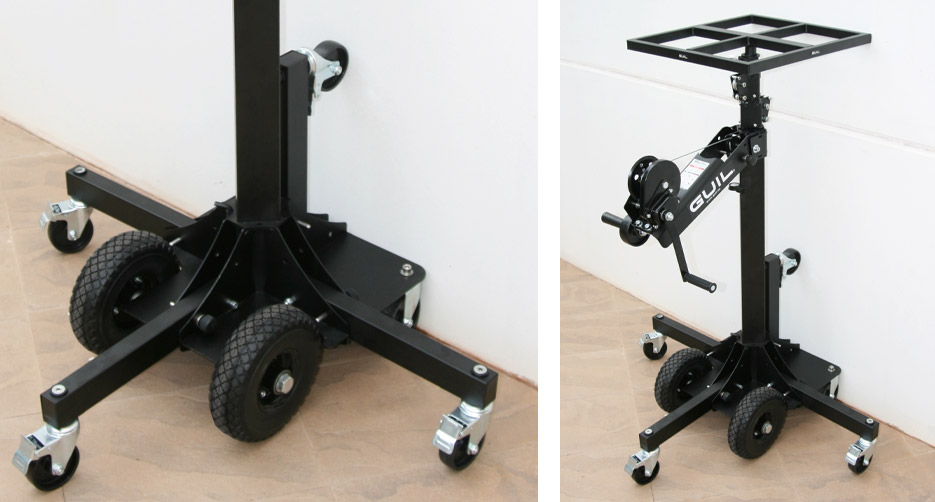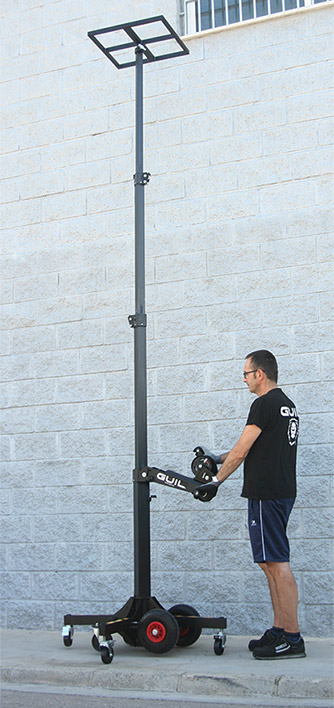 This material lifter consists of 4 telescopic steel sections finished in a double coat of tough anti-scratch black powder paint especially for outdoor use, the base will stand up to the rigours of any installer's life.
GUIL have designed a special mast construction that makes the operation of the lifters smoother and more efficient.
√  The mast can be lowered even without a load.
√  The cable passes from one mast stage to the next through passage points on the corners of the stages.
√  Welded reinforced top of each section, which strengthens the mast.
√  Internal cushioning system on all four sides to stabilise the mast sections during operation.
√  Double resend pulley = Less effort while lifting.
√  Pulley protectors to protect the pulleys during handling and transportation, at the same time preventing the cable from coming off the pulleys.
√  The top section comes with a reinforcing ferrule with an ergonomic metallic knob.
The ELC-725 comes with a spirit level incorporated, allowing the mast sections to be adjusted vertically in just a couple of minutes even on irregular ground.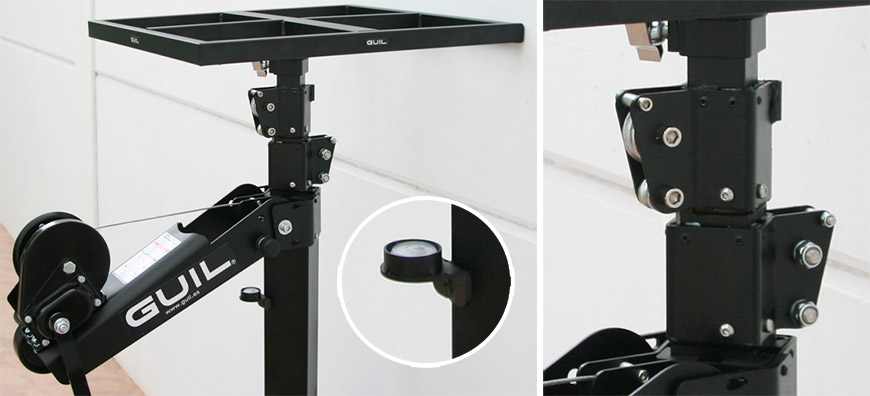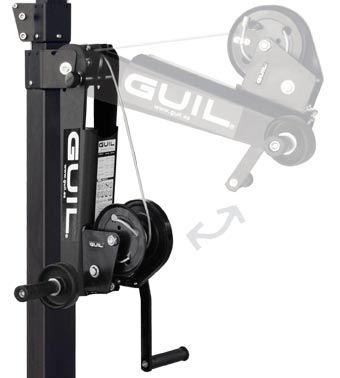 The ELC-725 lifter is fitted with a hand winch with automatic braking system. Its auto-block system ensures the load remains in position whenever the handle is released. It is fitted with non-twisting steel wire cable with an independent galvanised steel core (DIN 3060), specially designed to avoid twisting and crimping. GUIL uses the strongest and most flexible cable available for its lifters, making operation as efficient as possible.
The autobrake winch is installed on a special supporting arm, which is locked in its raised position with a magnetic locking pin (Ref. RC-100) to operate the lifter, and next to the mast when the device is not in use.
The lifter complies with the sturdiness and manoeuvrability requirements needed to lift loads, guaranteeing maximum safety and resistance, fulfilling the highest quality standards and safety norms.
Important: GUIL's lifters are not to be used as a hoist for lifting, supporting or transporting people.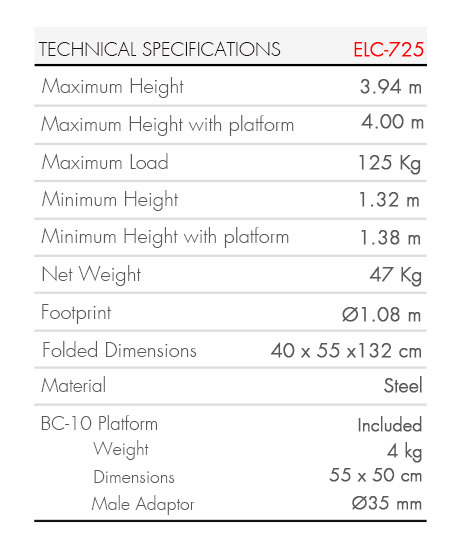 √  Load platform height of only 1.38 m: unbeatable ease of loading to lift 125 kg to 4.00 metres.
√ Its special design allows it to be placed right next to the wall.
√ It incorporates a new system which allows the lifter's mast to be lowered with no load (just with the weight of the load platform).
√ Levelling jacks for a guaranteed perfectly vertical lifter.
√ Compact base (45 x 50 cm) and small footprint for work in reduced spaces.
√ Load tray included (Ref. BC-10: 50 x 55 cm).
√ Fold-down legs with swivel wheels with brakes and levellers.
√ 260 mm flat-free wheels on the base for transport over rough ground.
√ Fold-down winch arm (two positions), fitted with a handle and wheel for transportation in horizontal position.
√ Fast and easy set-up with no tools required.
√ Lifts your loads quickly and effortlessly.
√ Easily used by a single technician. Timesaving = Optimum Productivity.
√ Maximum stability, safety and durability.
√ Compact design – Easy to manoeuvre in tight spaces and load in vehicles.
√ Auto-brake winch that blocks the load in place when the handle is released.
√ For industrial, commercial or domestic installations. For both indoor and outdoor use.
√ Manufactured with the most advanced technology, undergoing rigorous quality controls and complying with European CE standards.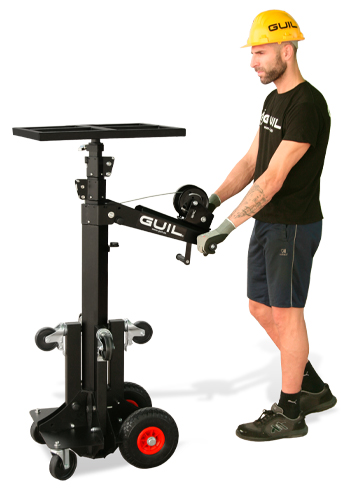 The ELC-725 has a compact and lightweight design for comfortable handling, transportation and storage, including four wheels in the base (2 x Ø 125 mm and 2 x Ø 260 mm flat-free) for easy manoeuvring.  With its stowed height of only 132 cm and weight of 47 kg, it can fit in small vehicles – and even a car – for maximum convenience. This means that one technician can transport and use the ELC-725 lift with ease, saving time and increasing productivity.
To help take the ELC-725 across rough terrain on building sites or similar workplaces, the base is fitted with two Ø 260 mm flat-free wheels, allowing the lifter to be transported wheel-barrow style, rather than carried, to the work site.
The manoeuvring handle on the winch arm has a wheel to help in loading the lifter into a van or even a car. The wheels support the lifter as it is lifted from the ground and moved in a horizontal position into the van.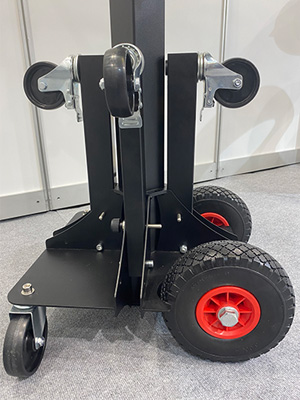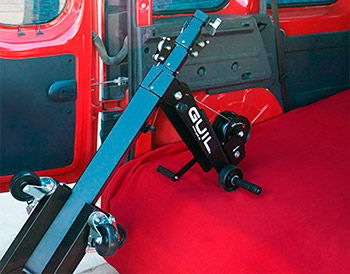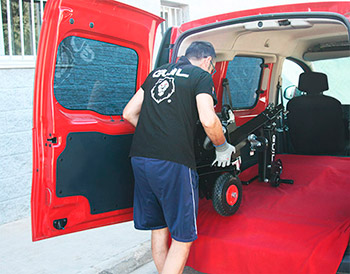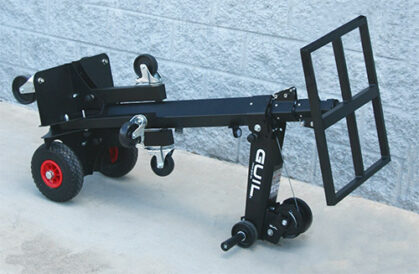 Our ELC-725 lifter is supplied with a 50 x 55 cm load platform (Ref. BC-10), manufactured in steel finished with special paint for outdoor work.
GUIL offers a wide range of accessories and adaptors to make your lifter a multipurpose tool that can be used in many sectors.
Maximum Height

:

14 ft 9 in, 4.50 m

Folded Height

:

1.53 m, 5 ft 0.2 in

Maximum Load

:

150 kg, 330.7 lb

Net Weight

:

108 LB, 49 Kg

Maximum Height

:

15 ft 0.3 in, 4.58 m

Folded Height

:

1.45 m, 4 ft 10 in

Maximum Load

:

125 kg, 276 Lb

Net Weight

:

37 kg, 82 Lb